The Boathouse Hua Hin presents luxurious condominiums offering a secure, secluded community within 72-rai of verdant landscape. Just two hours' drive from Bangkok and located close to The King's Klai Kangwon Palace, meaning "far from worry" in English, this new development is conveniently minutes away from local attractions and amenities. Ocean to the front and mountains to the rear, the property is well placed for spectacular views.
A unique feature of this new resort is an impressive 15,000-sqm free form swimming pool which weaves around the buildings and through to the beach. Twelve times bigger than an Olympic pool, it boasts waterfalls and is surrounded by tropical landscape, making a picture perfect setting.
Amenities include a state of the art fitness centre, a reading room with sea view gallery and hall, all of which are features of the "Lighthouse", a multipurpose building, which serves as a hub for the guest community. For the more active, there are tennis courts near the entrance to the Boathouse which can be reserved in advance.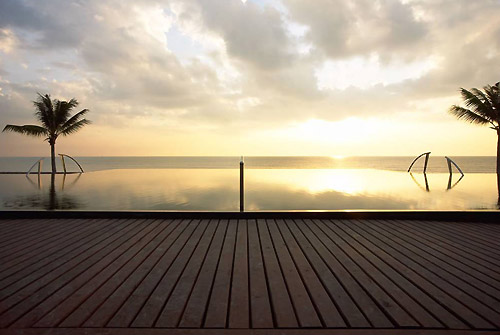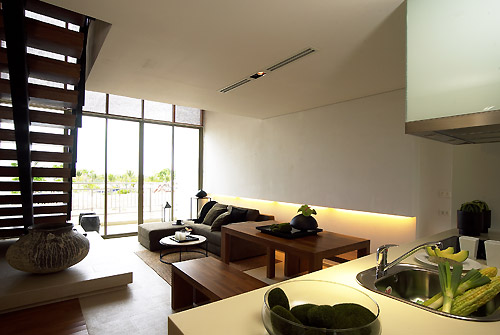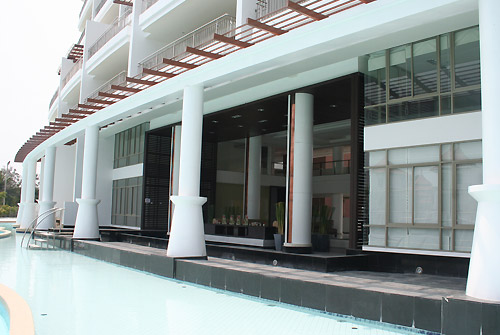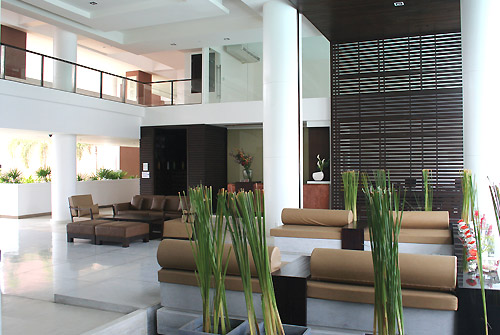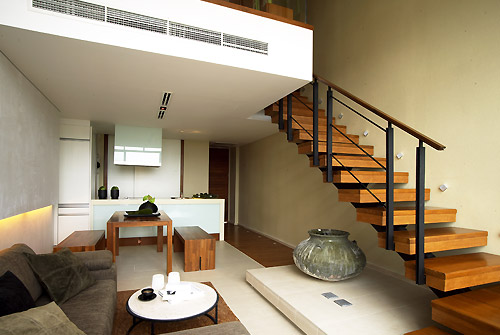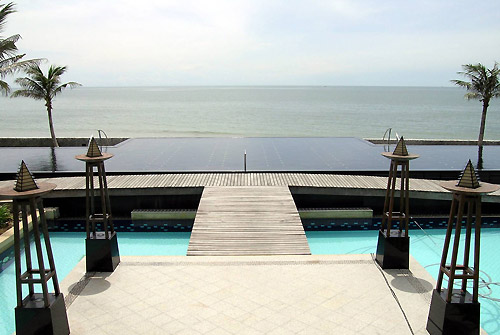 Accommodation
We offers one and two bedroom units, complete with kitchen and dining facilities. All living rooms and bedrooms overlook the impressive free form swimming pool.
The ground floor units boast direct swimming pool access from your living room. The duplex bedroom of each stylish open plan loft unit overlooks the living area and has a fantastic view over the development.
The two bedroom units all have balconies with built in Jacuzzi's, allowing guests to relax whilst enjoying the impressive views.
ONE-BEDROOM SUITE-LOFT (10 Units)
One Bedroom
One Bathroom and One Toilet
Living Area
Dining Area
Kitchen
Balcony
Maximum Occupancy – 4 persons
TWO-BEDROOM SUITE (5 Units)
Two Bedrooms
Two Bathrooms
Living Area
Dining Area
Kitchen
Balcony
Maximum Occupancy – 6 persons
ONE-BEDROOM SUITE-FLAT (2 Units)
One Bedroom
One Bathroom
Living Area
Dining Area
Kitchen
Balcony
Maximum Occupancy – 4 persons
Dining
Only 10 minutes drive from The Boathouse, Hua Hin town offers a wide array of dining options. From famous seafood restaurants on the old fishing pier to fashionable international cuisine, there is something to suit every pallet!
Facilities
The Boathouse offers an array of superb facilities for the whole family. The main feature of the development is the incredible 15,000sqm serpentine swimming pool that meanders around the whole resort. The pool also incorporates waterfalls and even glass bottomed sections which pass over the access roads.
Next to the pool, there will be a fabulous water park with slides and splash pools to keep the family and kids occupied throughout the day.
Out of the water, there are tranquil parks throughout the Boathouse for strolling around or just relaxing and enjoying the fresh sea air of Hua Hin.
In the clubhouse there is a state of the art fitness centre and a reading room to enjoy, with a fantastic restaurant opening in the future. For those looking for more active pursuits, there are tennis courts on site and miles of sandy beach to go jogging on.
Local Attractions
Aside form the endless beaches and countless seafood restaurants, Hua Hin offers many high end golf courses, shopping, and a famous night market where gifts and keepsakes can be bought.
There are several temples in and around Hua Hin, the main being Wat Hua Hin in the center of town. This large complex is home to the many monks that can be seen collecting alms in the early morning.
The Kings Palace in Hua Hin, Klai Kangwon is now only accessible by invitation. However, the residence of King Rama VI to the north of Hua Hin is open to the general public. This attraction is well worth a look as it boasts some impressive gardens and beach pagodas.
For the more discerning traveler, take a short trip to Hua Hin railway station. Built during the reign of King Rama VI, and only a short distance from the centre of town, Hua Hin's railway station and the adjacent Royal Waiting Room are attractive and brightly painted wooden buildings. The design is Thai in concept, but somehow manages to have a 'Victorian' feel. The station is very unique in its appearance and is a great photo opportunity.
At a 40km distance from Hua Hin, be sure to visit Thailand's largest national park - Kaeng Krachan National Park. Located primarily in the mountains adjacent to Myanmar, it has lots of rain and an abundance of rainforests and some grassland areas. Animal life includes deer, tigers, gibbons, bears, hornbills, wild elephants and dusky langurs. One of the park's most popular attractions is the eleven-tiered Pa-La-U Yai and Pa-La-U Noi waterfall.
Transportation
Situated on land with total area of over 72 rai in the Cha-am District, Phetchaburi Province, the project is located on the coast and boasts 80 meters of pristine beachfront. The development is accessed from Phetchakasem Road at km.222 (opposite to Stamford University), 1 km after Dusit Resort on your left if you are coming from Bangkok.