Set against a dazzling backdrop of bright white sand and sparkling indigo lagoons, LHC @ Angsana Laguna Phuket offers endless recreational opportunities. The lush green hills and coconut groves of Phuket captivate the minds of even the most discerning travelers. Ranked amongst the five best resorts in Asia-Pacific, the hotel is a piece of paradise providing optimum service and luxury.
Phuket's natural beauty emphasizes solitude and peace. Take a leisurely swim in the 323m serpentine pool complemented by glistening shades of azure or refresh and pamper body and soul at Angsana Spa, complete with a luxurious product line. Savor the epitome of fine dining al fresco amongst greenery or overlooking the sunset with one of the signature gourmet dishes available from one of the ten dining and entertainment venues.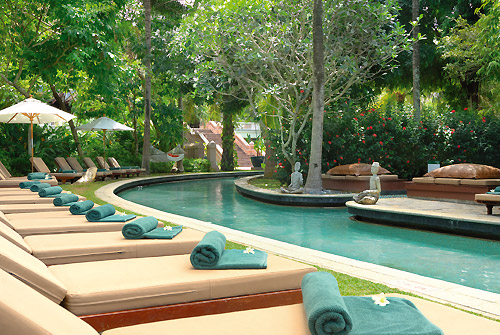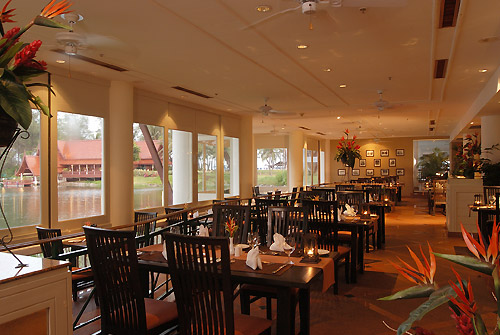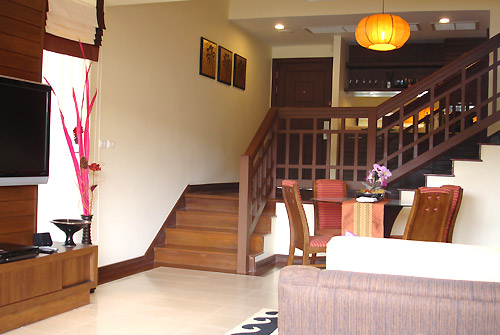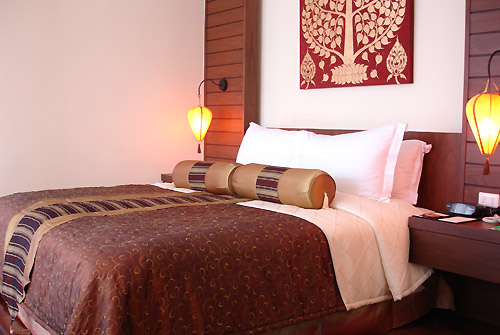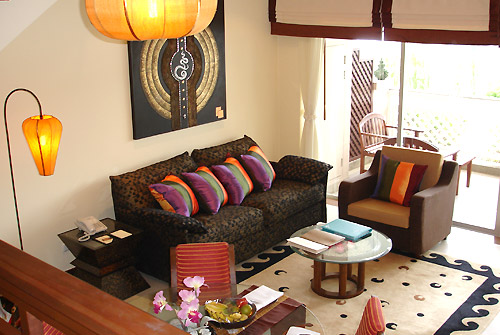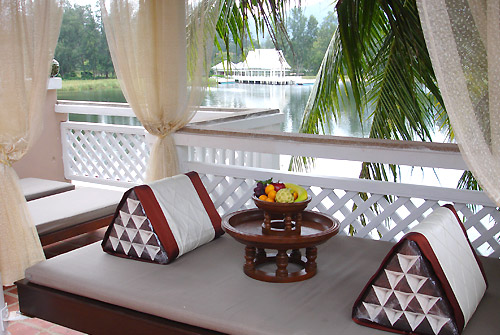 Accommodation
An exclusive two-bedroom suite, the LHC @ Angsana Island Villa presents guests with the privacy and exclusivity of a boutique-style hotel, while providing the benefits and activities expected of a full-service luxury resort.
Island Villa Duplex
Two Bedrooms
Two Bathrooms
Living Area
Dining Area
Partial Kitchen
Balcony
Garden View or Lagoon View
Maximum Occupancy – 6 persons
Angsana Island Villa - 2 Bedroom
Two Bedrooms
Two Bathrooms
Living Area
Dining Area
Partial Kitchen
Balcony
Lagoon View
Maximum Occupancy – 6 persons
Dining
Eat to your heart's content at the Angsana Resort & Spa. Laguna Holiday Club members vacationing at this exotic getaway have a wealth of dining options at their disposal.
Dining at Angsana Laguna Phuket
Dining at Angsana Laguna Phuket is a culinary haven of excellence; a choice of the world's most tasteful delights. With ten dining and entertainment venues featuring gourmet Thai favourites, Asian freestyle cuisine, Italian and other specialties, guests can savor an extensive selection of dishes while enjoying air-conditioned comfort or the tropical breeze al fresco style.
Tea House Kitchen
Tea House Kitchen showcases a unique concept of cuisine. Presenting Asian Freestyle versus Classical Chinese, the inspired menu allows guests to explore the best flavors from Asian cooking in this multi-level, air conditioned restaurant.
Chao Lay restaurant
Chao Lay is an authentic Thai restaurant specialising in seafood and Southern Thai cuisine. Diners can observe food preparation through a central display kitchen as well as enjoying views of the lagoon, while being entertained by traditional live Thai music.
Loy Krathong Lounge
The perfect place to rendezvous. Loy Krathong Lounge is centrally located with superb views and offers drinks as well as light snacks, with live entertainment nightly.
Poolside restaurant
Located by the main pool, Poolside restaurant serves delicious wood-fired pizzas, light snacks and refreshments. A swim-up bar for twelve adds a touch of relaxation.
Gekko restaurant
Situated on the white sandy beach in front of the resort, Gekko offers a laidback beachfront dining ambience venue. Taste fresh steak and seafood from the grill, while enjoying stunning views of the Andaman Sea.
Birds of Paradise restaurant
This restaurant offers all-day dining with picture postcard views of the lagoon. Its à la carte menu features international delicacies, while creative buffets are available to suit everyone's taste.
Puccini restaurant
Located amid the Island Villas, this fine dining Italian restaurant features contemporary décor with air-conditioned interior and alfresco dining on the terrace for both lunch and dinner. Puccini also presents an impressive wine room with the best selection of Italian wines on the island.
Waves bar
Let the rhythm wash over you at our new beach front lounge bar. With DJ Cool providing the best music on Phuket Island, enjoy signature cocktails, fun and dancing within an inspirational setting. Open seasonally.
Village Bakery
Located in the heart of the Canal Village, Village Bakery serves fresh breads, an all day breakfast menu, mouth-watering pastries, cakes, sandwiches and more. Eat in or take away.
Lagoon Dining
Enjoy breakfast, lunch or dinner as you cruise the tranquil lagoons. Choose from an authentic Thai or Italian set menu or allow our chef to prepare a personalised menu with a perfect combination of gourmet dishes. Available for two to twelve diners.
In-Room Dining
24 hour in-room dining provides convenience and luxury for guests wishing to enjoy delicious dishes in the privacy of their own room or villa.
Terrace Dining
Be it a refreshing breakfast or romantic dinner, terrace dining is an excellent choice for a private dining experience. Terrace dining is also available at The Grande Villas.
Facilities
Pool
Asia's longest fresh water swimming pool (323m) winds throughout the main hotel buildings and Villa area with two Jacuzzi and waterfall features.
VIK (Very Important Kids) Club
A hotspot for children, the VIK Club provides daily children's entertainment, plus games and crafts to keep the young ones enthralled. There is also a playground for outdoor fun. Yum Yum and Lilly, the resort's baby elephants, pay their daily visits and play with the little ones and the young at heart. VIK Club is complimentary for in-house guests aged 4-12 years.
Angsana Spa
Located on the 1st and 2nd floors between the specialty stores, it offers massage and treatments to refresh and rejuvenate one's body and soul.
Pulse
A fully equipped 24 hour fitness centre situated in the hotel bridge wing overlooking the lagoon, with cardiovascular machines and free weight training equipment.
Business Center
Providing facsimile, photocopying, internet access and related business services.
Sports
Games area with table tennis, life-sized chess, 2 flood-lit tennis courts and complimentary non-motorized water sports. Fully coordinated daily activities are available through the tour desk, plus a rock climbing tower and high ropes course are on offer at Quest Laguna Phuket Adventure centre.
Others
Luxury Collection Shop by Banyan Tree Gallery, Angsana Gallery, sundry store, handmade shoes, leather products, hair and beauty salon, tailor shop and Thai handmade arts and crafts. Canal Village, a collection of over 30 shops offering everything from antiques to designer clothing, is easily accessible via inter-resort transportation.
Laguna Phuket Golf Club
An 18-hole golf course located within the Laguna Phuket complex, a nine iron away, with a complimentary shuttle from the resort. The golf course is designed to challenge golfers of all abilities, with lagoons, coconut groves, undulating fairways and an island green.
Local Attractions
Activities in and around Phuket
Phi Phi Islands
A group of islands 40 kilometres southeast of Phuket justifiably famous, with spectacular rock walls rising from crystal clear seas and stunning beaches and coves.
Island Day Trips
Most of the beautiful Andaman Sea 'postcard' vistas are taken on the small, sometimes uninhabited islands surrounding Phuket. The islands of Koh Racha and Koh Kai Nok offer great snorkelling. If you want to avoid crowded tour groups, private snorkeling trips by speedboat to these islands are available.
Learn to Dive
The waters surrounding Phuket are amongst the clearest, warmest and calmest in the world with a wonderland of tropical coral reefs below the surface. Add world-class scuba instruction at reasonable prices and you have a great place to learn to dive.
Dive the Similan Islands
The Similan Islands offer the unique chance of diving with whale sharks. Manta rays are also common, the coral exceptionally varied and the water incredibly clear and calm. This island group is ranked one of the top 10 diving destinations in the world.
Phang Nga Bay
A trip to Phang Nga Bay, with its mystic rock formations towering vertically out of the sea, is the one big 'must see' during a visit to Phuket.
Koh Pannyi 'Sea Gypsy' Village
Perched on stilts above the sea, Koh Pannyi is included in most tours to Phang Nga's James Bond Island. At lunchtime hundreds of tourists gather here to eat and shop.
Sea Canoeing
There's no better way to appreciate the limestone karsts, caves and hidden lagoons of Phang Nga Bay than by paddling around and through them in sea canoes.
Hongs by Starlight
This is a unique way to explore the 'hongs' and caves of Phang Nga Bay, on a late afternoon/evening canoe trip. It's so special it has been dubbed "a spiritual experience rather than a tour".
Whitewater Rafting
Experience the exhilaration of whitewater rafting on an adventurous day trip in the beautiful, natural environment of Phang Nga province.
Game Fishing
The waters off Phuket offer fantastic game fishing with a variety of good game fish including sailfish, wahoo, barracuda, tuna, marlin and bottom fish.
Elephant Trekking and Safari Adventures
Elephant trekking provides the opportunity to get up close and personal with these magnificent beasts and their natural jungle habitat. A safari tour offers a glimpse of typical rural life including elephants, jungle treks, monkeys, canoeing, rubber plantations, water buffalo cart rides and Thai cooking demonstrations.
Safari Tour by Quad-Bike
A two-hour off road journey by Quad-Bike exploring the countryside along nature trails, taking you through rubber and pineapple plantations, palm gardens and mangrove forests to an unspoiled beach.
Horseback Riding
Whether you are a novice or an experienced rider, you will have great fun following trails that pass grassland, golf courses, groves of conifers and white sandy beaches. Imagine the thrill of cantering through the surf. Trained guides will accompany you.
Phuket FantaSea
A unique cultural theme park showcasing Thailand 's exotic roots with a fusion of ancient Thai traditions and cutting-edge technology, circus acts and pyrotechnic displays. You can choose show only or show with dinner at the Royal Feast Buffet.
City Cultural Tour
Visit Sino-Portuguese mansions, Buddhist and Chinese temples including Phuket's most famous temple, Wat Chalong, spectacular view points, rubber plantations and a working farm to experience typical rural life.
Transportation
Air
Phuket International Airport receives flights from all around Asia, Australia and Europe and flights from Bangkok take a little over an hour. It is a good idea to book your tickets to Phuket early, especially during the November-May high season. When you arrive, our Laguna Phuket Hospitality Centre is located in the Arrivals Hall of the Phuket airport to greet and assist Laguna's guests. The resort is only a 20-minute drive from Phuket International Airport.
Sea
There are no regular ferry services to Phuket from other countries. If you come from abroad by yacht, you must clear Immigration and Customs located at Chalong Bay, on the southern end of Phuket.
Road
Phuket is 885km south of Bangkok and connected to the mainland by a 1200m causeway. Both government-operated buses and private air-conditioned tour coaches regularly make the 14-hour journey between Phuket and Bangkok. Phuket bound buses depart from Bangkok's Southern Bus Terminal.
Rail
There is no rail service to Phuket itself. The night train from Bangkok (Hua Lumphong Railway Station) to Surat Thani is a long but scenic journey. At Surat Thani you must transfer to a bus to reach Phuket.
Island Transport
Public Transport
From the airport, 'limousines' to Phuket Town or to one of the west coast beaches cost around 400 Baht. The minibus service is about 80 Baht, which can be much slower. There are also the ubiquitous tuk-tuks or open taxis. If you want a tuk-tuk to yourself, expect to pay around 300-1,000 Baht, depending on where you are going. Otherwise, if the vehicle picks up more people along the way, the fare should be somewhere around 20 or 40 Baht.
The route buses, or songthaews, are converted trucks with benches serving as seats. They work regular routes and the destinations are clearly marked in both English and Thai. Fares cost around 20-40 Baht per passenger. Motorcycle taxis are for the stouter of heart, and the fares are to some extent negotiable. You can recognise them by the numbered vests on the drivers.
Car Rentals
You can hire vehicles by the day or by the week. Make sure that insurance cover is offered as the driver is liable for all damage costs in the event of an accident or otherwise.
Ferries
Regular ferry services run between Phuket and the spectacular Phi Phi islands a couple of hours to the east. Tour boats also offer daytrips to the Similan Islands, about 50 miles to the northwest, which are famed for the quality of their diving.
Boat Rentals
You can rent everything from a traditional wooden 'longtail' boat (with driver) to a 30-knot speedboat which will take you to the Similan Islands for diving or snorkelling and back within a day. This is one way to see the Phuket coast from the sea or to visit neighbouring islands. Other ways involve chartering a sailing yacht or booking a place on a live-aboard diveboat.